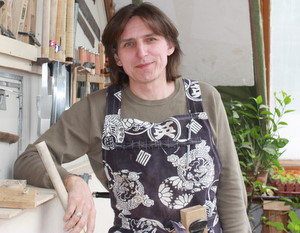 Dear Guest,
You accidentally (while I'd like to believe that you are not) found yourself at my site which is located, along with the owner, on the island of Sakhalin, which lies in 75 sea miles to the west of Japan - it's easier to find it on a map.
All that you see here, including the site itself, was created by me; I've started with creation of my daughter first, she is one of my two best projects. She finally created this page for me; however, the truth is that I had to wait for about 20 years before it was done.
All items that are presented to you, except for the head of the owner on the photo, are made of wood. Owning the wooden furniture is the same as owning a live horse – it is expensive, requires care and attention, creating the right conditions for it - but a person sitting on a horse looks quite different from the one sitting on a plastic chair. Although this is my own opinion and if you are happy to value plastic and chipboard furniture - then ... still look at the pictures anyway, since you are here and pictures are available and free of charge, however, the real finished items have their costs. You may write, inquire the price and order them if you want.
These are only parts of my work; the rest were either not promptly captured on photos, or given away as gifts to my friends in the United States, Nigeria, Canada and Japan; others I have not yet made and will post on this website later.
Ideas come from books, the Internet, sometimes just appear in my head and then they are creatively processed to be improved or simplified. So welcome to all my dear guests ... and I think it is enough said!
If you're tempted to ask or suggest something, there is a Feedback page; those frequently asked questions will be answered in the blog section. Information on the pages will be replenished from time to time - so check every once in a while.
Victor Meshcheryakov
Sakhalin Island, Russia